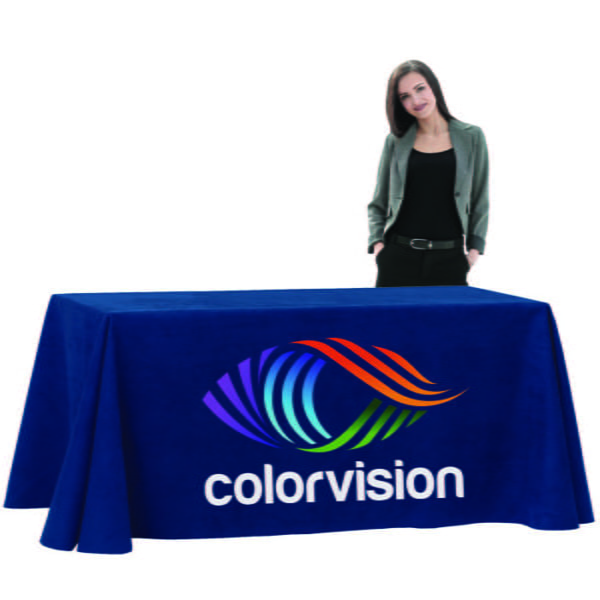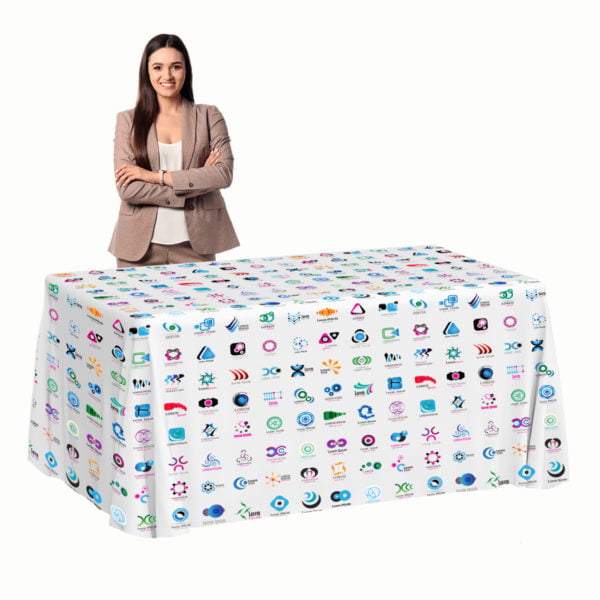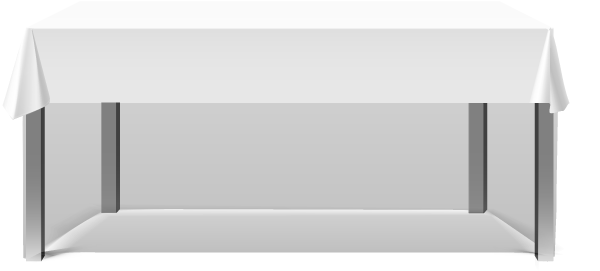 Drop to floor on 3 sides with shorter rear drop

£114.00 (ex. vat) £136.80 (inc. vat)
The most popular fitting style is to have the front and both sides dropping to the floor with a shorter drop at the rear for seating or easy storage access.
Select your table size or tablecloth size below.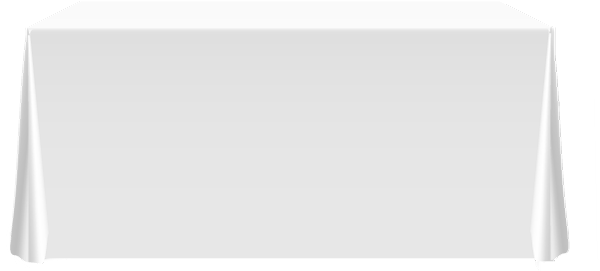 Drop to the floor on all four sides
£124.00 (ex. vat) £148.80 (inc. vat)
Used when people will not be seated on one side or when people will be walking all around the table. All 4 sides drop to the floor including the rear.
Select your table size or tablecloth size below.
Delivery estimate 3-5 working days. Delivery date wll be displayed before checkout.
Custom Table Sizes
If your table is not a 'standard size' we can produce any custom sized printed tablecloths you need. Even round and oval ones.
Just fill in our short online form with your table dimensions and we'll email you a quote quickly.
Unsure of the size?
The most common type of trestle table is a 6′ or 180cm table. If you get a printed tablecloth for this size then you can fold the ends under and 'box' the corners in if you find yourself at a venue with a smaller table.
You can always adjust the printed tablecloth position across the width to make sure the important front drop and your logo is presented correctly whatever the table type size.
Looking for a different type of printed tablecloth? Check these out!
FAQs. Frequently Asked Questions.
The tablecloth should be big enough to drop to the floor at the front where your logo will be and to the floor on the two ends so it looks professional from the front and sides. You also need either a short or long rear drop. This means that you need a table cloth that is 70″ or 180cm from front to back and 60″ or 150cm longer than the length of the table. To make it easy we have designed our tablecloths to fit perfectly on each of the standard table sizes and you can select these above and see which size tablecloth is needed for which size table.
You can get your logo printed onto a tablecloth easily by uploading it to into the online designer. There you can add additional text or images if you want and also set the background colour of the tablecloth to be the exact colour that you want.